WE ARE STILL OPERATING
Our workshop and office is closed to the general public.
Our Electricians and Apprentices are split into specific teams to minimise cross contamination.
Aside from some additional precautions as per Government advice it's business as usual for the AMG Electrical Solutions team!
AMG Electrical solutions
KINGAROY & SOUTH BURNETT'S ELECTRICAL & communications SPECIALISTS
We Provide Domestic, Industrial & Commercial Electrical Services — Air Conditioning, Communications, Rural,
  Smoke Alarms, Lighting & More.
AMG Electrical Solutions | Domestic, Commercial and Industrial Electrical Services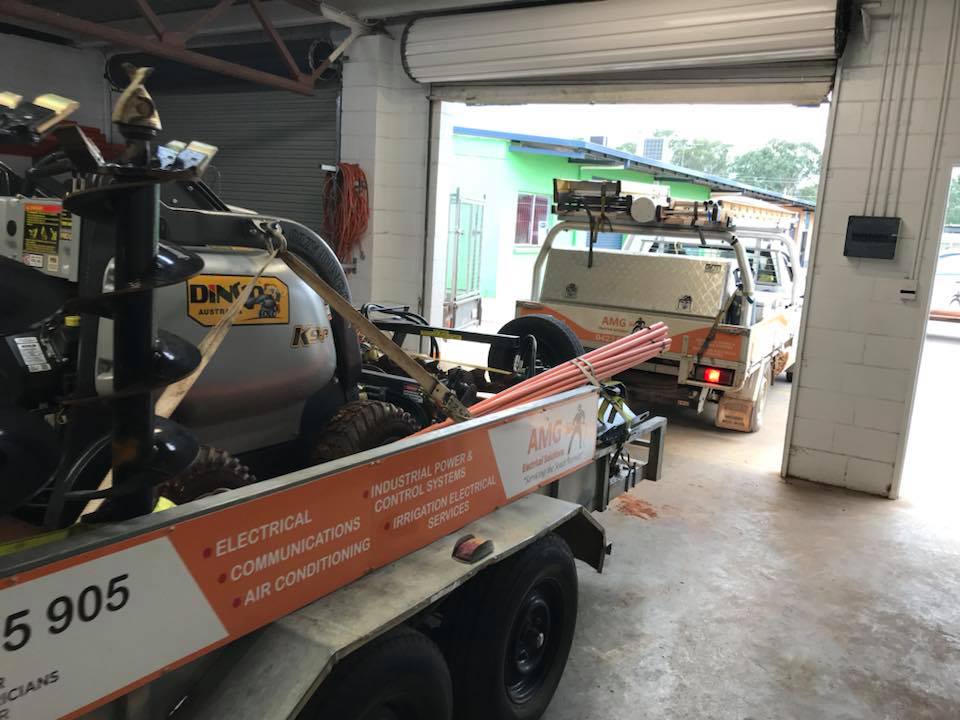 AMG Electrical Solutions — Servicing Kingaroy and South Burnett Since 2013
For electrical, communication and air conditioning services in Kingaroy and South Burnett, look no further than AMG Electrical Solutions. Since 2013, we've been providing quality electrical services for domestic, commercial and industrial customers across the South Burnett region from our base in Kingaroy. Whether you're looking for home or office air conditioning installations, domestic, commercial or industrial electrical installation or maintenance – we have your requirements covered.
Nothing was too much trouble. They turned up on time and let us know what was happening so there were no nasty surprises at the end with unexpected costs. We will be continuing to use AMG for all of our electrical work. Thanks Mitch for your organisation and service. Your hard work and dedication to your customers is a credit to you!
Definitely recommend, booked for kitchen Renovation. On all visits were punctual, tidy, helpful and creative when things weren't as planned.
Thanks Mitch, Paulie and Tom for the great job on our shed (should've been my house renos) I have one extremely happy camper..the old boy loves it..now just to fill
Highly recommended to anyone looking for a friendly reliable and affordable electrician.
Highly recommend AMG Electrical Solutions, they did a great job installing our new oven. They worked fast, with a friendly attitude. Thanks heaps for the great job!
These guys know their stuff. Our control board has been playing up on our pumps, they came and fixed it in one go. Great work, will be calling them back for sure.
AMG were a pleasure to deal with. The sparkie turned up on time with an apprentice and completed the work diligently and efficiently. The charge (cost) was very reasonable. I don't hesitate to recommend AMG Electrical and will certainly use them again.
Thanks for your prompt service. Your communication and work was well done.
Great service and a very friendly team!
Chesterton Accounting Kingaroy Queensland
Great service by professional and friendly team. Very happy with aircon installation and true to quote given. Will be using AMG again.
Thank you very much to Mitch, Jason, Paulie and Tom for all the hard work you have done so far on Mum and David's property. Not only did you do a lot in the house, including power points inside and outside, renewing lighting, installing aerial points and internet cabling you also have just finished wiring and installing lighting and power for my 23 x 9 metre shed (and understood what mum was trying to say which is a miracle in itself). Both of these were big jobs for the guys and they did it all quickly and let them know if there were better ways than they had thought of. Mum says It has been an absolute pleasure having them there and they look forward to the future flat being done. The one thing they really liked about these guys, is they let them know about things that needed to be done that we all hadn't noticed , that could have caused a lot of problems but also have been dangerous (Mum and David lost their house to fire before so are very wary about anything electrical). We highly recommend AMG for any electrical work that needs doing, knowing they are reliable, cost effective, let you know if something is not right or a different way could be better and honest. I personally thank them for the peace of mind they have given Wendy and David Walford and look forward to having there again. Regards Des Sams
Paul and Tom were at my home today to complete the electrical works you had quoted. I just wanted to provide you and your team with some feedback. Feel free to use this as you wish. Paul and Tom were brilliant. They arrived exactly when you said they would.They went through the scope of work and gave me a heads up on any issues that might crop up and also took pains to make sure they heard what I was needing from the work.The guys worked beautifully as a team, maintained a friendly professionalism throughout the work, asked for my direction and decisions where required, offered workable and appropriate alternatives as they were needed and checked in with my satisfaction with the progress and the work quality on multiple occasions.Paul and Tom worked almost non-stop to get through the scope and seemed happy to do so. The final product is fantastic. Not only do I have a better electrical setup that is safer and easier to understand, it also looks fantastic thanks to their meticulous approach and high standard of work practice. They completed the work as if it was on their own home.The guys left with a plan in mind to fix a final issue with a light/fan, or at least attempt to fix it. (Bit of a tricky one) They even managed to work around the hounds who proved to be noisy and demanding the whole time - thanks for your patience and understanding guys.To top it all, there was no time when I felt that Paul or Tom compromised safety for themselves or me while on the job, something I really valued. In all, a brilliant effort from a professional team. I only wish I had spoken to you and engaged your business in the first instance.Thanks so much for a great job and all round positive experience through the great work of you and your team.Love your work!
AMG Electrical Solutions | Domestic, Commercial, Industrial & Irrigation Electrical Services