If you are after an electrician Nanango, AMG Electrical Solutions provides a full suite of electrical and communications services to ensure we have the requirements of all local commercial, industrial and domestic customers covered.
Since 2013, we've been providing quality electrical services for domestic, commercial and industrial customers in the Nanango area.
Whether you're looking for home or office air conditioning installations, domestic, commercial or industrial electrical installation or maintenance – we have your requirements covered.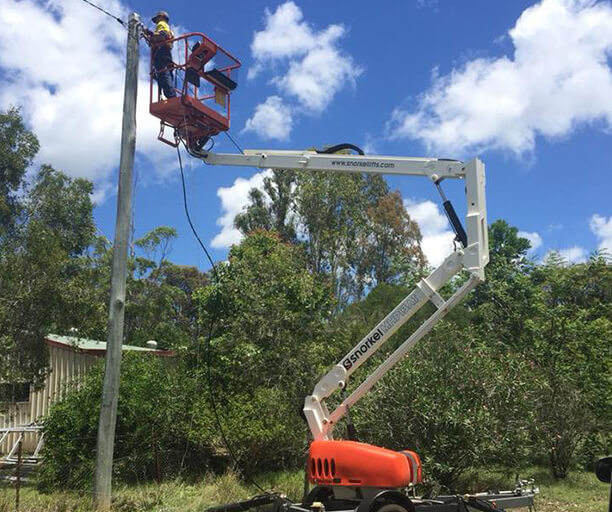 Electrician Nanango
Your #1 trusted local electrician
Whether you're looking for commercial, industrial or domestic electrical, communications or irrigation solutions in Nanango, we've got you covered!
Hi Mitch, Paul and Tom were at my home today to complete the electrical works you had quoted. I just wanted to provide you and your team with some feedback. Feel free to use this as you wish. Paul and Tom were brilliant. They arrived exactly when you said they would. They went through the scope of work and gave me a heads up on any issues that might crop up and also took pains to make sure they heard what I was needing from the work. The guys worked beautifully as a team, maintained a friendly professionalism throughout the work, asked for my direction and decisions where required, offered workable and appropriate alternatives as they were needed and checked in with my satisfaction with the progress and the work quality on multiple occasions. Paul and Tom worked almost non-stop to get through the scope and seemed happy to do so. The final product is fantastic. Not only do I have a better electrical set up that is safer and easier to understand, it also looks fantastic thanks to their meticulous approach and high standard of work practice. They completed the work as if it was on their own home. The guys left with a plan in mind to fix a final issue with a light/fan, or at least attempt to fix it. (Bit of a tricky one) They even managed to work around the hounds who proved to be noisy and demanding the whole time - thanks for your patience and understanding guys. To top it all, there was no time when I felt that Paul or Tom compromised safety for themselves or me while on the job, something I really valued. In all, a brilliant effort from a professional team. I only wish I had spoken to you and engaged your business in the first instance. Thanks so much for a great job and all round positive experience through the great work of you and your team. Love your work!
We have worked with and through AMG Electrical for several years… Over that time, we and our owners have found them to be reliable, courteous and above all ethical in their dealings with our clients… No jobs are ever to complicated or hard for Mitch and his team and they are always looking for ways to provide top line service. Where possible they come up with different alternatives and offer cost effective solutions. We at Yarraman Real Estate are happy to recommend the AMG team to anybody looking to complete electrical work in the South Burnett Region…
Many thanks guys for all the work you do for the Roy Emerson Museum and the Blackbutt Hall particularly. You are accessible, dependable, courteous, kind, efficient, cost friendly and community minded. All very much appreciated - keep up the good work​.
AMG were a pleasure to deal with. The sparkie turned up on time with an apprentice and completed the work diligently and efficiently. The charge (cost) was very reasonable. I don't hesitate to recommend AMG Electrical and will certainly use them again.
Thanks for your prompt service. Your communication and work was well done.
Great service and a very friendly team!
Thank you very much to Mitch, Jason, Paulie and Tom for all the hard work you have done so far on Mum and David's property. Not only did you do a lot in the house, including power points inside and outside, renewing lighting, installing aerial points and internet cabling you also have just finished wiring and installing lighting and power for my 23 x 9metre shed (and understood what mum was trying to say which is a miracle in itself). Both of these were big jobs for the guys and they did it all quickly and let them know if there were better ways than they had thought of. Mum says It has been an absolute pleasure having them there and they look forward to the future flat being done. The one thing they really liked about these guys, is they let them know about things that needed to be done that we all hadn't noticed , that could have caused a lot of problems but also have been dangerous (Mum and David lost their house to fire before so are very wary about anything electrical). We highly recommend AMG for any electrical work that needs doing, knowing they are reliable, cost effective, let you know if something is not right or a different way could be better and honest. I personally thank them for the peace of mind they have given Wendy and David Walford and look forward to having there again. Regards
We can help you whether you're looking for commercial, industrial or domestic electrical, communications or irrigation solutions in Nanango.
WE'VE GOT  YOU COVERED!
AMG Electrical Solutions provides quality services at great rates for local customers.
Our eletricians Nanango ensure all Nanango customers can access the electrical, communications and irrigation solutions they need, our qualified electricians provide a full suite of services:
We install most air conditioner brands and can manage both the electrical and refrigeration components of the installation.
We can assist with all of your data, phone and appliance installations, repairs and rewiring needs and more.
Providing solutions for control systems, instrumentation, packing facilities, automated machines, three and single phase motors, conveyor belts and more.
We can work with your water contractor to optimise the way your irrigation equipment operates to maximise water supply output.
Providing wet and dry dingo hire for our customers in Nanango. Attachments include trencher, 4-in-1 bucket, cement mixer, 250mm and 400mm auger.
AMG Electrical Solutions provides
quality services at great rates for local customers.
Whether you're looking for commercial, industrial or domestic electrical, communications or irrigation solutions in Nanango, we've got you covered!